Monday, January 31, 2005
Argopuro Mountain
Height: 9,868 feet (3,008 meters)
Location: East Java, Indonesia, Asia

This mountain route is the longest one at Java Island. In the map, this route is almost 30 kilometres far. It's located at 3 different states, Probolinggo, Bondowoso and Jember. And all that state located in East Java Province.

There is a lot of peak at this mountain, but only two peaks whish usually climber visited. They are Argopuro Peak and Rengganis Peak.
There are two start point that usually used by climber who visited here. From Baderan or from Bremi. Baderan located at Bondowoso or Besuki and Bremi located at Probolinggo.

If we taking Baderan as the start point, we'll see a beautiful panoramas along this route. We'll see a tropical rain forest, and then long long savana, and may would make us bored besause we'll across along this savana almoust all day hiking.
But there is a few point of this route that we can take a rest here.
If we take form Baderan, after hiking about 6 hours we'll come to 1st water point (mata air 1)
and then from mata air 1 we'll come to mata air 2 (2nd water point) after 3-4 hour in hiking.
From Mata Air 2 we'll trekking to Cemoro Panjang taking about 1-2 hours. this may one of the hardest route.
And then after we reach Cemoro Panjang, we will come to Alun-Alun Kecil. From this point we will see a long trip of savana before comes to Cikasur / Alun-alun Besar. It's take at least 3-4 hours.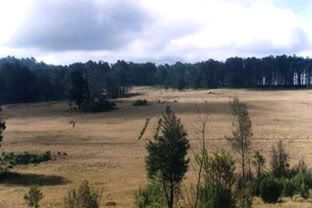 Cikasur

There is a lot story of Cikasur. Before 1945, this place became a Japan's aircraft landing, that hidden between hills. So the Indonesian soldiers could detect this place.
At this place, we usually could watch peacock, belibis, pigs, monkey at aerly morning or late afternoon. It's beautiful view's here, besides a small river down this camping area with it's fresh water and water salad on it.
After here we should move to Cisentor (Aeng Poteh / air putih / White water area).This is could be our last camping point before reach summit.
And from Cisentor, we can go to the peak via Rawa Embik. If we take the right side of the route from Rawa Embik, we can reach peak of Argopuro.
And when we take the left side of the route from this place, we can reach Rengganis peak (in map it's named Welirang peak).
When we want to go back, we can choose 2 options. Back to Baderan (our start point) or continue to Bremi (our finish point later).
If we continue to Bremi, we'll pass Aeng Kenik (one of water point), and then Danau Taman Hidup (Life Garden Lake).
From Danau Taman Hidup, we can reach Bremi, our finish point in 3 hours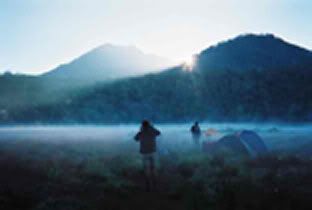 Taman Hidup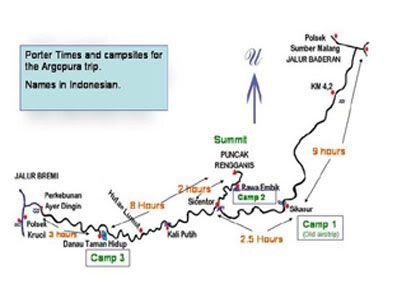 a simple route map
souce: http://www.summitpost.org/show/mountain_link.pl/mountain_id/3025

LINKS
posted by ARU @ 4:57 PM

about me
Name: ARU
Location: Bandung, Jawa Barat, Indonesia
i'm just person who like to find something new, i had a lot of knowledge, from the outdoor lifestyle (survival, management rope, navigation, GPS, making shelter at tropical forest, etc), photography, a little martial art, motorbike ( your bike want to serviced, accept take appart but not accept built :D naon deuihhh terima bongkar ga terima pasang maksudnya hiihihi)
My Links In The Web
shoutbox
Previous Post
Archives
Advertisement
Affiliates
The page's WebCounter count says you are visitor number